Våra norska vänner på Battlefield.no har sedan en lång tid tillbaka arrangerat så kallade Bigwars i dom tidigare Battlefield spelen och numera även i Battlefield 4. Det hela går helt enkelt ut på att våra grannar i väst utmanar t.ex oss i Sverige på Battlefield där det är fritt fram att anmäla sig och sedan kriga om äran i ett massivt 32 vs 32 slag där helt enkelt vinnaren kan stoltsera sig med segern över Norge.
Nästa bigwar kommer gå av stapeln redan imorgon kväll där Danmark ger sig in i fighten mot Norge, vi på BFstuFF.se har däremot fått reda på att norrmänen kommer att utmana oss svenskar i mars så dags att lägga sig i hårdträning nu!
Hello fellow soldiers !

I am happy to inform you all about the upcoming Bigwar, this will be our 6th in Battlefield 4 and 100something in Battlefield series. This tradition started way back in the 1942 days and continued through Battlefield 2. We are so happy to see the fabulous spectator system from DICE and the commander is back in Battlefield. Bigwars are organized events with radio discipline, but unformal and everyone is invited to take part. Bigwars have a signup system which is announced 1 week before event – typically.

This match is against Denmark and will be broadcasted on our YouTube Channel in full HD and with commentaries, we will also be dishing out some cool Battlefield 4 t-shirts for the spectators, if we get a lot of spectators we have some more cool prizes to give out (headsets, mousepads, mouse, key-chains, etc). These are donated to our organization by sponsors, or by donation money that we collect.

Since we started up in Battlefield 4 and continued the tradition that began in 2003 we see how popular this event has become in Norway and we wish to thank both Sweeden and Denmark that have provided us with even more exciting matches. The Bigwars are phenomenal community building events and we try to host 1 special event each month against other communities or countries, however we host community Bigwars each week. The interest in Norway is good and we are happy to see that our previous streams have gathered over 1000 views after they are published. Typical views on Live Stream is around 200, and growing.

This match filled up in under 1 minute and players where hitting F5 so hard that the server actually broke due to interest for our Bigwars at Battlefield.no. "this is a huge and exciting reward for us, we do this on our spare time and for the fun of Battlefield multiplayer", says one of the admins for Bigwar concept

We hope to see you on our Stream tomorrow night, we start at 2000 hours and expect commentaries with pre-Bigwar-talk to begin at around 2030. So, tune in and watch as Norway and Denmark battle it out in BIGWAR !
Ni kan här nedan se en repris från det senaste mötet mellan Sverige och Norge och ni kan förståss hitta mer information om detta spektakelt genom att klicka er vidare till Battlefield.no.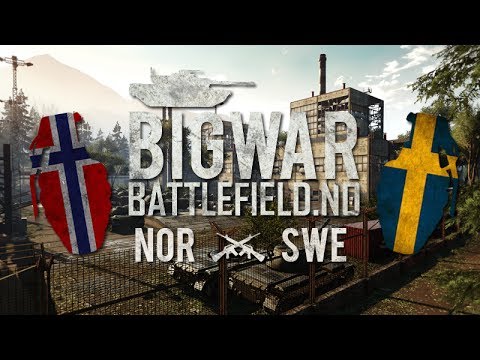 GD Star Rating
loading...