För första gången i ett Battlefieldspel så får vi se en eldkastare. Titta på klippet längst ner och njut!
This time-typical weapon used in the Vietnam War [and in our 2004 World War II mod for Battlefield Vietnam — Editor's note] actually changes the way you play the game. Say you are hiding in the tunnel leading to M-COM station B on Hill 137.  One way to keep the attackers out is by firing your flame-thrower out of the tunnel in a preventive manner. Any enemy going near will catch on fire and get other things to worry about than arming your M-COM …
… Which neatly segways into how the flame-thrower affects enemies. Apart from taking taking damage directly by the fire, anyone caught in the blast starts burning health at a steady pace. There are however a number of ways to stop this gradual death from happening. One is using a medkit that you or a friendly medic has administered. Another way is running to the nearest source of water, which also will stop the fire.
As our playtests rage on here at the DICE office, it's clear how much the flame-thrower gives to this expansion in terms of style and sheer aggressiveness. Check out the trailer below for more fire-based action, and remember to come back next Friday for even more info and screens from Battlefield: Bad Company 2 Vietnam.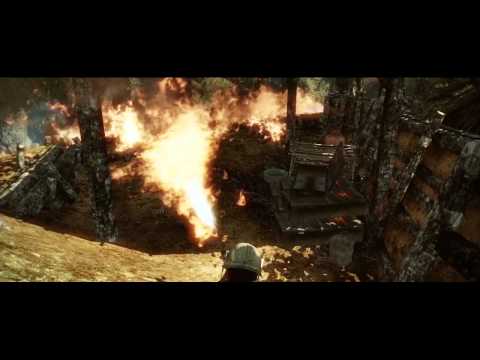 GD Star Rating
loading...
BFBC2 Vietnam Del 6: Eldkastare

,